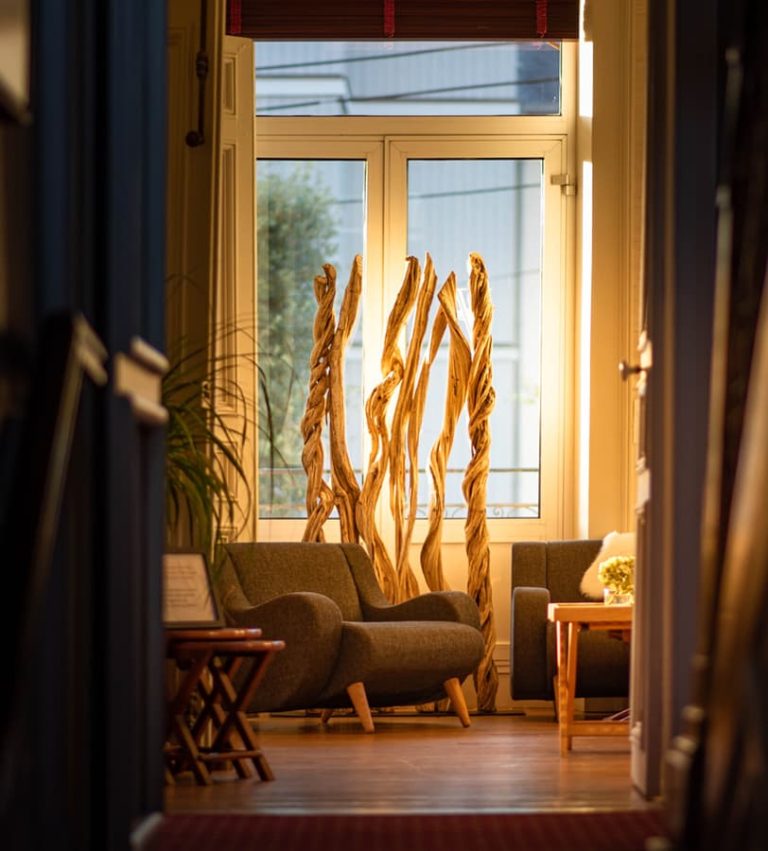 Welcoming you with elegance & sophistication
A private mansion created in the 19th century, after a spa villa and then a guest house, the Hotel La Villefromoy in Saint-Malo has preserved its authenticity. This chic house, which looks like a "malouinière" – a vast demure from Saint-Malo – is ideally located in the heart of a residential area next to the sea.
80 m/263 ft from the beach, in a peace and calm environment, 26 high-quality and comfortable rooms await you. The elegant decoration peacefully merges modern elements with charms of the past. The hotel personnel, at your service 24h a day, offers you a warm and friendly welcome. A pleasant terrace, a lovely patio, a lounge bar and a showcase of gourmet and wellness products are available to embellish your stay. For business travelers, the large lounge room can become a meeting room or a coworking space.
A residence in the calm of the corsair city
The Hotel La Villefromoy is in a serene setting near Saint-Malo's ramparts, close to the famous Sillon beach and the family-friendly Cale of Rochebonne. You can enjoy recharging your batteries there after a busy day on the Emerald Coast.
Many different walks, tours and activities will draw you out of the hotel – discover the Corsair City and the bay of Mont Saint-Michel as well as the different marine pleasures: thermal baths, water sports, boat trips, high tides, hikes on the GR 34, to name a few!
While Brittany is an excellent tourist destination, it is also a gastronomic and gourmet destination. We have a number of great restaurants in Saint-Malo and Ille-et-Vilaine to recommend, depending on your preferences and itinerary – including AR Iniz right across from the hotel!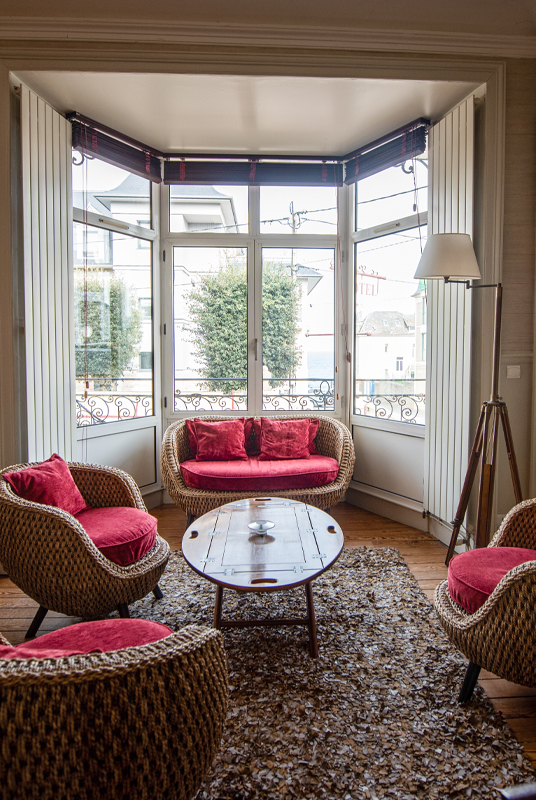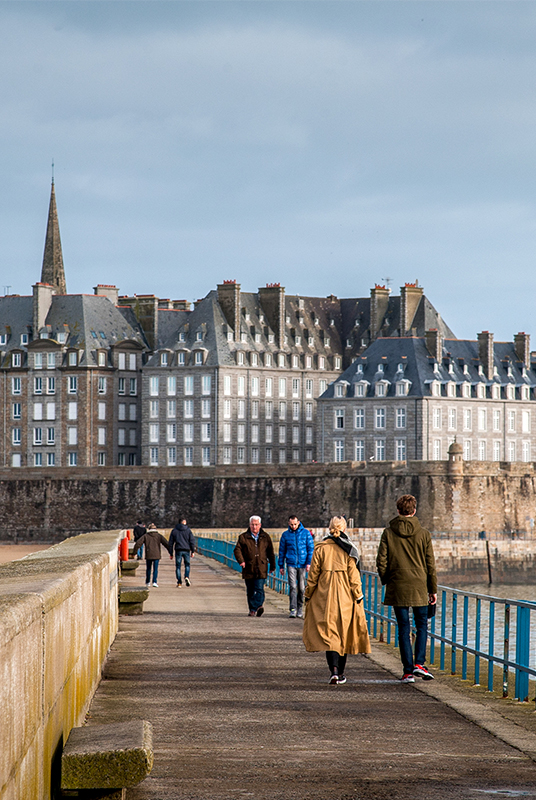 A Generous "Breton" Breakfast
Breakfast is served from 7:30 am to 11:00 am / 11:30 am in the breakfast room or in your room, our breakfast features local products and artisanal recipes that we hope will delight you. The buffet breakfast is made of a large range of sweet and savory options. Jam, butter and yogurts from Saint-Malo, pancakes, "craquelins" and "far" Breton, salted butter caramel are among the sweets to discover. Cereals, cheese, deli cold cuts, smoked fish, as well as a large choice of bread and free gluten products are also available.
The Hotel La Villefromoy can organize business breakfasts in our lounge room with capacity for groups of up to 12. Professionals, companies, business networks – do not hesitate to contact us for your business meetings.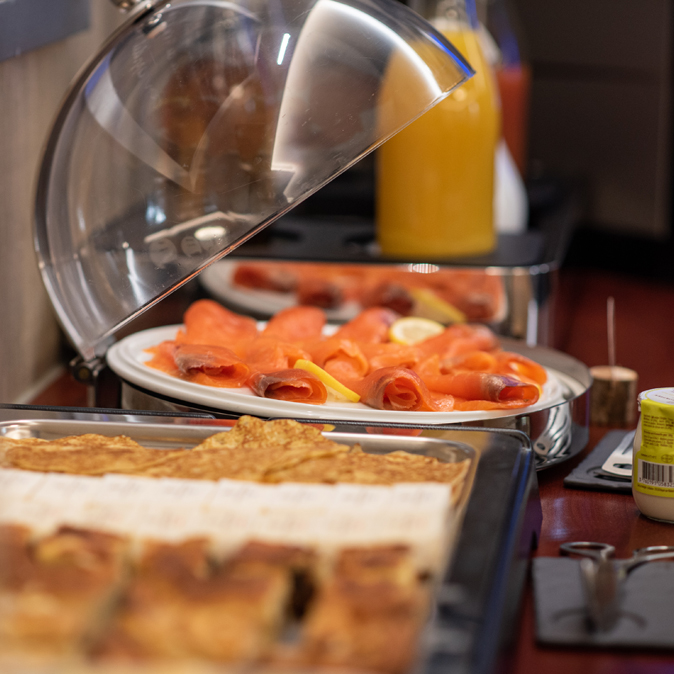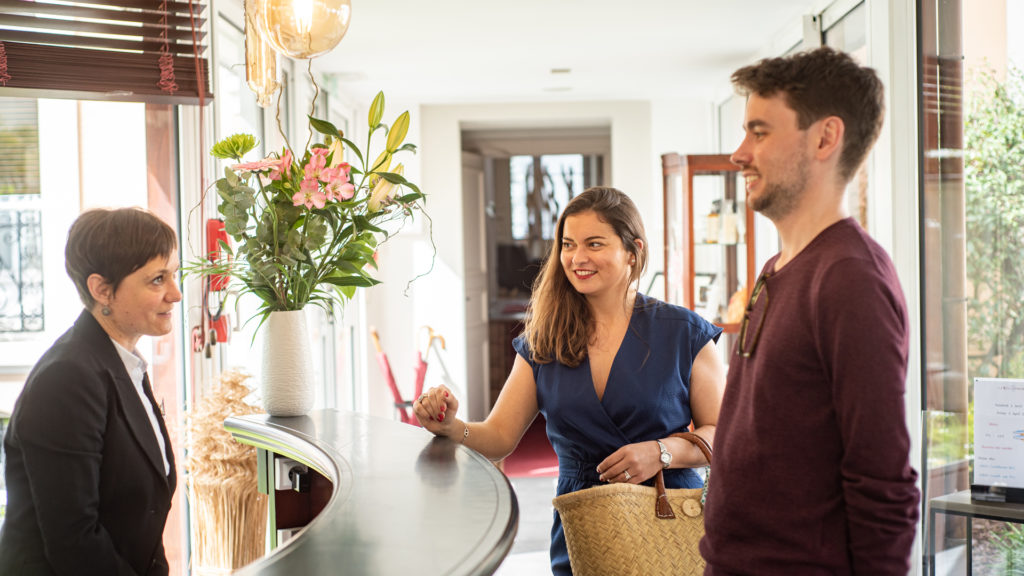 The Reception Desk at the Hotel La Villefromoy is open 24h a day, and our concierge service is available to answer your questions and make your stay as pleasant as possible. Our night staff is on hand to assist you at any time. We take care of all of our guests, do our best to anticipate your needs and to advise you and help with various bookings: taxi & car rentals, spa, massages, hairdresser appointments, excursions to Jersey, Guernsey, team building activities, etc.
Have a birthday to celebrate, a special event or you simply wish to surprise someone? Would you like to organize a professional seminar with or without a night at the hotel? Contact our team to get a personalized proposal.
Services available at the Hotel La Villefromoy:
– 26 rooms and refined suites with 2 adapted for people with reduced mobility
– Front Desk open 24h a day, concierge, luggage, laundry services
– Breakfast served in the breakfast room or in your room
– Lounge bar with a piano, library, board games
– Meeting room and coworking space
– Garden, patio
– Lifts/Elevators
– Free Wi-Fi
– Private, secure parking (additional fee)
– "Cyclists & Bikers Welcome" Quality Label
– Bike rental
– Beach towel loan
– Dogs welcome (additional fee)
– Early check-in & late check-out (upon availability)
– Non-smoking hotel